Introducing the smallest DF reader on the market
Upgrade to include Radio Module here
(Upgrade also adds wifi to Club Reader)
What's in the box? Everything.
Power Options
The internal 9Ah battery will power your TimeMachine for 5-7 hours depending on antenna configuration. Connect a genuine Trident Auxiliary battery to double your battery life or use a mains power supply to keep timing 24/7.
Cellular Communication
Now your TimeMachine can talk to your computer using the internet. Get live results from a timing point that is in another country or 20km away.
Electrical Noise Reduction
Environmental noise and Interference can dramatically reduce the performance of RFID timing systems. Our engineers have solved this issue with some proprietary wizardry to deliver industry-leading electrical noise immunity – so that Timers deliver higher quality results.
GPS time source
Using GPS your TimeMachine will always be on the true atomic time, making syncing your reader time a thing of the past.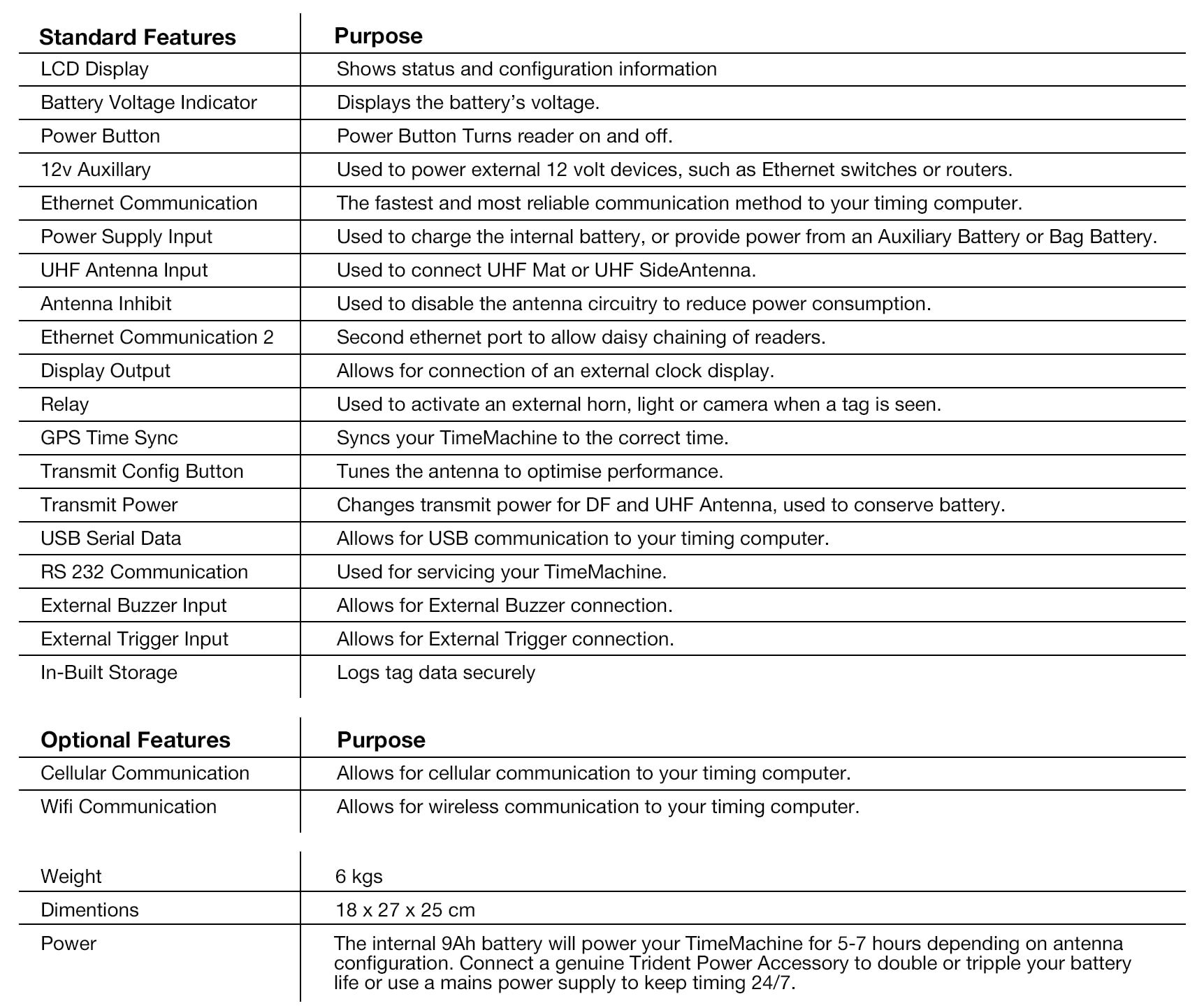 No one knows your business like you do, for this reason, Trident systems unlocked and therefore compatible with a wide range of timing software packages. This gives you the freedom to use software of your choice.
If you are unsure if your software is compatible with TimeMachine we recommend contacting your software provider to confirm. Alternatively, we offer our own timing software which is compatible with all our timing products.
Upon receiving your order it generally takes our team two weeks to build and ship your TimeMachine. Delivery time will vary based on your location and shipment selection. If you require your order earlier than the two weeks please contact [email protected]..
Delivery options:
– International Standard; ideal for trackable non-urgent parcels have estimated arrival in 6+ business days.
– International Express; Ideal for urgent parcels with estimated arrival in 2-4 business days between major metro areas.
We are unable to provide any official advice for import costs and process as these are country specific. We recommend that if you are unsure of customs you speak with a local import or custom representative.
Please note that hold up in customs or a failure to collect your items will result in extended delivery times.
If you have unique customs and/or shipping requirement that we need to be made aware of to process your order or if would like to talk to us further please contact us on [email protected].


300 years of combined RFID experience.
A serious R&D department dedicated to delivering the most reliable equipment on the market.

Support straight from the horse's mouth.
Diagnose problems with support from the engineers that designed and built your TimeMachine.
Want more information?
Fill in the form to the right and one of our experts will be in touch ASAP to help you.
Enjoy the best of both worlds with the TimeMachine Hybrid.

You asked, and we listened.
TimeMachine Hybrid gives you, the timer, the flexibility of having DF and UHF in one reader. This gives you the opportunity to compete for events with high participation numbers using UHF's lower tag cost, while also allowing you to compete for events that DF excels in.
Less capital investment, more event timing opportunities, more reward for your hard work.
DF v UHF has always been a compromise between ability and tag prices. DF is superior technology in that it will deliver higher read rates giving less missed chip times and will provide more accurate results as it can determine precisely when an athlete crosses the finish line. UHF is superior from a business case perspective, cheaper tags allowing them to be disposable.
jQuery(function(){ jQuery(".scroll").fadeIn("slow"); jQuery(window).scroll(function (event) { var scroll = jQuery(window).scrollTop(); if(scroll < 100){ jQuery(".scroll").addClass("show").fadeIn("slow"); }else{ jQuery(".scroll").removeClass("show").fadeOut("slow"); } //console.log(scroll); }); });