For when using mats isn't practical.
The UHF SideAntenna is our most portable method of reading UHF DisposableTags. It is typicaly used for events where using a UHF Mat isn't practical, such as road cycling. It can also be used a for a spotter/commentator system in running events or used in conjunction with a UHF Mat to increase read rates.
When used with a TimeMachine UHF or Hybrid, the UHF SideAntenna delivers industry-leading read rates allowing you to produce higher quality results. This is achieved through our proprietary 'DynamicQ' algorithm and 'Dense Reader Mode', which means that UHF tag detection is dramatically improved.
We've made made tuning for RF field simple. Your TimeMachine does it for you at the push of a button. Your UHF SideAntenna can be deployed in any environment and will auto-tune themselves by filtering out electronic 'noise' and setting themselves at the optimum signal to achieve best read rates for the environment.
Comes in ETSI (800 Mhz Band) or FCC (900 Mhz Band) versions based on your local registration.
Large:
Size: 45cm x 45cm square
Weight: 2.9 kg
12dBi signal Strength
Recommend read range: 6m
Small:
Size: 25cm x 25cm square
Weight: 0.91 kg
9dBi signal Strength
Recommend read range: 4m
Compatible Readers:
TimeMachine UHF and TimeMachine Hybrid.
1 UHF SideAntenna uses 1 port.
Compatible Tags:
UHF DisposableTag
Your unlocked TimeMachine is able to decode any UHF Tag operating using Gen2 or IPX, in both ETSI and FCC frequencies.
This band is typically between 860 to 960 MHz, depending on regulations. Typically ETSI is around 860 – 870 MHz, and FCC is typically 900 – 930 MHz.
We recommend using a UHF SideAntenna to at road cycling event, this is because the antenna will have a direct line of sight to a UHF DisposableTag placed on the cyclist's seat post or helmet. This method of timing cyclist doesn't impact other road users by using ground mats.
This antenna can also be used to run a spotter/commentator system in running events or used in conjunction with a UHF Mat to increase read rates.
Upon receiving your order it generally takes our team two weeks to prepare and ship your UHF Mat. Delivery time will vary based on your location and shipment selection. If you require your order earlier than the two weeks please contact [email protected].
Delivery options:
– International Standard; ideal for trackable non-urgent parcels have estimated arrival in 6+ business days.
– International Express; Ideal for urgent parcels with estimated arrival in 2-4 business days between major metro areas.
We are unable to provide any official advice for import costs and process as these are country specific. We recommend that if you are unsure of customs you speak with a local import or custom representative.
Please note that hold up in customs or a failure to collect your items will result in extended delivery times.
If you have unique customs and/or shipping requirement that we need to be made aware of to process your order or if would like to talk to us further please contact us on [email protected].
Side Split
This configuration is recommended for cycling events. Antenna's need to be 1.5m apart to create the best possible field. The RF field comes out of the antenna in a balloon shape, so angling the first antenna towards the finish line roughly 30 degrees will increase the accuracy across the line. Always test your RF field with a tag and adjust accordingly. This diagram shows 3 x UHF SideAntenna being used with a 4 port TimeMachine UHF or Hybrid.
Mat & Side Split
This configuration is recommended for split timing points, the UHF SideAntennas increase the likely hood of getting line of sight to the UHF DisposableTag and thus increasing read rates. This split method is the least accurate configuration and is not recommended for start/finish splits. If being used at a finish split the UHF SideAntennas can be placed meters before the finish line and used for the announcer/spotter system. This diagram shows 1 x 6 segment (3.2 meter) UHF Mat and 2 x UHF SideAntenna being used with 1 x 8 port TimeMachine UHF or Hybrid to create a 3.2m line.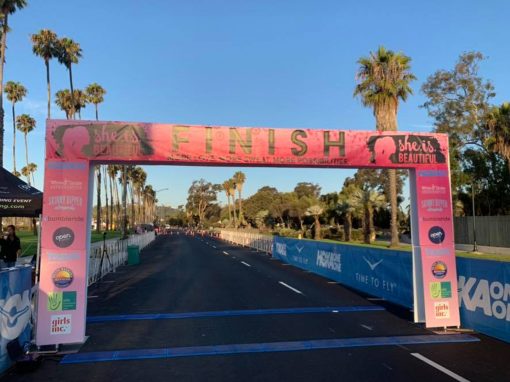 Want more information?
Fill in the form to the right and one of our experts will be in touch ASAP to help you.


300 years of combined RFID experience.
A serious R&D department dedicated to delivering the most reliable equipment on the market.

Support straight from the horse's mouth.
Diagnose problems with support from the engineers that designed and built your equipment.
jQuery(function(){ jQuery(".scroll").fadeIn("slow"); jQuery(window).scroll(function (event) { var scroll = jQuery(window).scrollTop(); if(scroll < 100){ jQuery(".scroll").addClass("show").fadeIn("slow"); }else{ jQuery(".scroll").removeClass("show").fadeOut("slow"); } //console.log(scroll); }); });